2018 Mercedes-Benz GLE: Luxurious all-weather performance.
May 22 2018, Mercedes-Benz Montréal-Est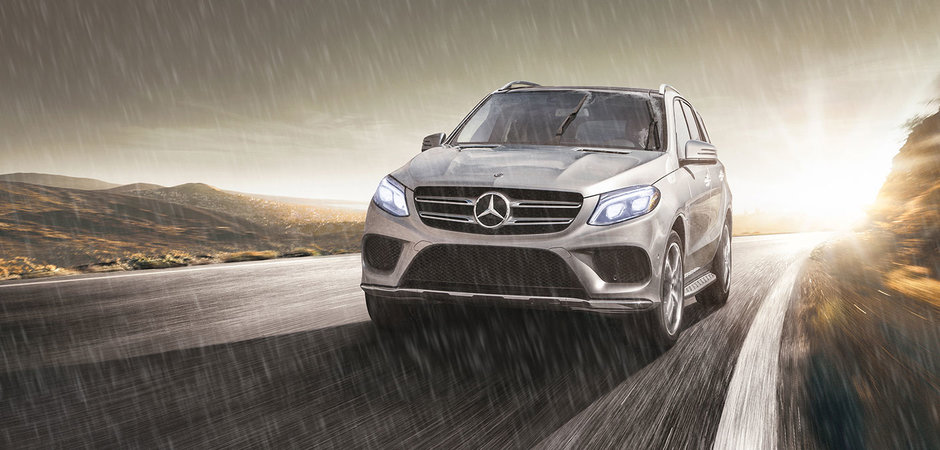 As a distinguished luxury vehicle retailer, we need to be proud of our selection. There are countless luxury utility vehicles currently available on the market, but there's only one Mercedes-Benz GLE. As a pioneer of the segment, you can rest assured that your GLE will always meet and even exceed expectations, regardless of the circumstances.
Capability, performance, and comfort.
Mercedes-Benz offers a GLE for every purse. Each GLE is crafted with attention to detail and endowed with the latest available technologies, whether it's in relation to safety, efficiency, or driving pleasure. Your job is to select the right one for your needs.
At $66,100, the Mercedes-Benz GLE 400 4MATIC is provided with a 329-horsepower biturbo 3.0L V6 that also produces 354 lb-ft of torque. Mated to a standard 9G-TRONIC automatic transmission, the 400 will consume on average 12.1 l/100 km of fuel and tows nearly 7,200 lbs.
When only a V8 engine will do, the $82,000 Mercedes-Benz GLE 550 delivers. Its biturbo V8 develops 449-horsepower and 516 lb-ft of torque. With the standard 9G-TRONIC automatic transmission and 4MATIC AWD, the GLE 550 will reach 100 km/h in only 5.1 seconds without breaking a sweat.
The $73,900 Mercedes-AMG GLE 43 is the ultimate middle ground in performance, styling, and capability. Its biturbo 3.0L V6 generates 385-horsepower and 384 lb-ft of torque, averages 12.1 l/100 km of fuel and can tow just about 7,200 lbs. Every AMG product is gifted with unique visual features that help it stand out in the crowded SUV market.
The ultimate Mercedes-AMG GLE 63 S is destined for those not interested in making any kind of compromise. At $115,500, few other car or trucks provide this level of power and prestige in a single vehicle. Its biturbo 5.5L V8 pumps out 577-horsepower capable of propelling the 63 S to 100 km/h in only 4.2 seconds.
Finally, we get to the Mercedes-Benz GLE 550e. The combined biturbo 3.0L V6, 85 kW electric motor and 8.8 kWh battery provide the 550e with the ability to cover up to 30 km on a single charge and manage a 5.3-second sprint to 100 km/h. Driving performance is far from compromised with this $83,900 plug-in hybrid SUV.