2019 Mercedes-Benz A-Class: Compact technology, luxury, and performance.
May 22 2018, Mercedes-Benz Montréal-Est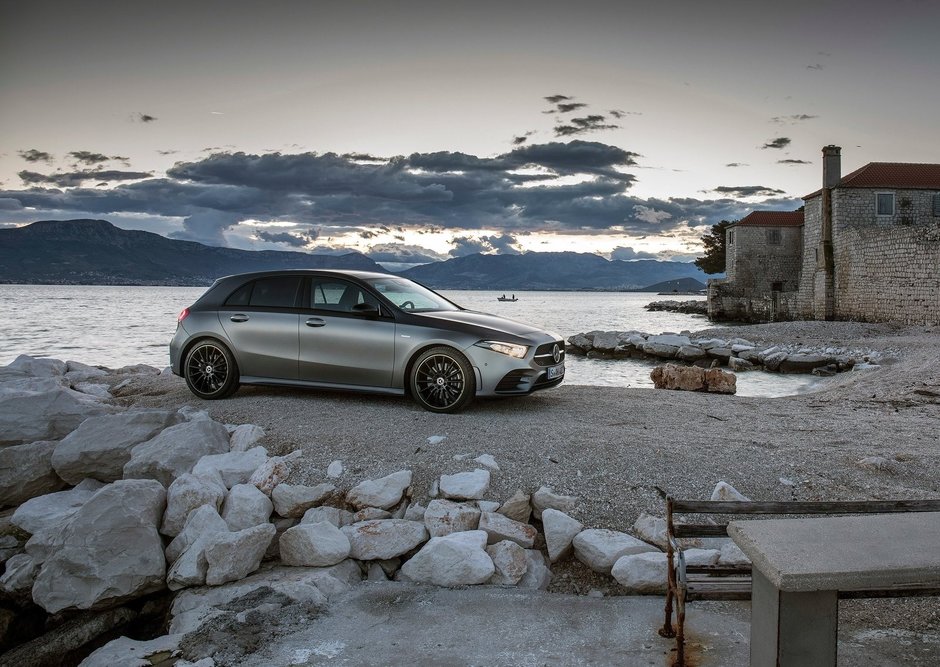 As aspirational brands go, few come close to Mercedes-Benz. Be it for the history, the styling, or legendary performance of the fabled brand's cars, Mercedes-Benz has always sought to deliver the best to its customers.
Unlike other luxury brands, Mercedes-Benz's goal is to provide a first-class automotive experience whether the budget is $35,000 or ten times this amount. The new 2019 Mercedes-Benz A-Class is absolute proof of the company's intentions.
An expensive look.
While pricing has yet to be announced, the 2019 A-Class shares a number of physical attributes with far more expensive cars. The first such element is the sporty "shark-nose" front graphic, inspired by and shared with the all-new CLS. Be it in 4-door sedan or 5-door hatchback guise, the A-Class will sport 17" or 18" wheels, emphasizing the small car's youthful nature.
Onboard, the high-end trend continues. The pair of 7-inch or optional 10.25-inch displays are reminiscent of those found in an S-Class, if only smaller. It's on these screens where the multiple menus for Mercedes-Benz's User Experience, or MBUX, will appear. This multimedia system will feature artificial intelligence that will enable the system to learn the user's preferences. Smartphone integration, with Apple CarPlay and Android Auto, will also be available.
Materials, fit, and finish will be nearly indistinguishable from cars retailing for far more money. The optional Sport package will include an integral seat, but the spacious cabin will accommodate up to five passengers with or without it.
A promising powertrain.
To keep the driving experience entertaining, Mercedes-Benz has included a turbocharged 2.0-litre 4-cylinder engine and 7G-DCT dual clutch automatic transmission. The mill will produce a healthy 221-horsepower and 258 lb-ft of torque, which will enable the A 250 to hit 100 km/h in only 6.2 seconds. 4MATIC AWD will be a popular option, transforming the A-Class into a true all-season performer.
The compact Mercedes will feature DYNAMIC SELECT drive modes for maximum efficiency and responsive fun. Thanks to its McPherson front and sophisticated four-link rear suspension setup, the A 250 will be equal parts agile and comfortable, making it ideal for both the urban jungle and countryside cruises.
The A-Class will hit showrooms later this year.